Mediator Ken Rose
"I'm at a point in my legal career where I can be very effective at getting parties, particularly in employment disputes, to settle cases with a win-win result." Ken Rose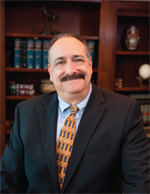 Ken Rose is the founder and President of Rose Mediation and The Rose Group, A Professional Law Corporation. The Rose Group is a global employment law and HR consulting firm, based in San Diego, California and Washington, D.C. Ken also serves as a Judge Pro Tem for the California Superior Court and a Mediator for the California Department of Fair and Employment and Housing.
Kenís broad experience makes him uniquely well suited to facilitate the resolution of legal disputes at mediation, particularly in the employment arena. For the past 36 years, Ken has practiced employment law exclusively. Ken has served as trial counsel for both defendants and plaintiffs in employment matters, and routinely counseled his clients about the costs and benefits (both monetary and non-monetary) of selecting mediation to resolve litigation. Kenís knowledge of employment law, credibility on both sides of the bar, capability to quickly grasp the issues at hand, demeanor, and measured tenacity, enable him to readily evaluate the various possible outcomes in an employment case, and resolve cases effectively and amicably. Ken has seen it all, and well understands the dynamics of employment litigation.
Ken is the author of Lawful Hiring: A Primer for California Employers, published by R&J Legal Publishers, and co-author of the chapter "U.S Employment and Labor Law" in the International Handbook on Contracts and Employment, published by the International Bar Association and Kluwer Law International. In addition, Ken has authored numerous published articles on employment law issues of importance to domestic, foreign, and multinational companies.
Ken received his law degree from the George Washington University Law School in 1976 and a B.S. from the Cornell University School of Industrial and Labor Relations in 1972.
Ken is AV-Preeminent peer review rated by Martindale-Hubbell. Martindale-Hubbell's AV-Preeminent rating identifies a lawyer with preeminent legal ability based on the attorney's expertise, experience, integrity and overall professional excellence. Ken is also recognized as an outstanding attorney in the Top Rated Lawyer in Labor & Employment, Top Rated Lawyer in International Law & International Trade and Southern Californiaís Top Rated Lawyers, American Lawyer Media and Martindale-Hubbell; The International Who's Who of Management Labour & Employment Lawyers and Business Lawyers, Who's Who Legal; San Diego Super Lawyers, Thomson Reuters; Guide to the World's Leading Labour and Employment Lawyers, Euromoney Publications, Ltd.; Global Law Experts; Top Rated Lawyers Annual Guide to Labor & Employment , The American Lawyer and Corporate Counsel Magazines. The publisher of the Guide to the World's Leading Labour and Employment Lawyers informed Ken that he received an exceptional amount of personal nominations by in-house counsel and his peers making him the leading nominee in California and in the top five in the U.S.
Ken is a member of the American Bar Association's Section of International Law and the International Labor Law Committee of the American Bar Association's Section of Labor and Employment Law, and the International Bar Association.
Recent Publications
ployment Law Developments: Review of 2012 California Supreme Court Decisions and New Legislation, Valley Lawyer, December 2012
Employment Law Developments: Review of 2012 California Supreme Court Decisions and New Legislation, Valley Lawyer, December 2012
New California Employment Laws Present More Challenges, Valley Lawyer, March 2011
California Supreme Courtís Employment Law Cases: A Year in Review, Valley Lawyer, December 2010
Independent Contractor or Employee [A California Perspective]: Misclassification Has Consequences, SES Legal Education Blog, April 2013